Managed IT Services
We Know IT
The world of IT is constantly changing, and you may not have the resources or desire to hire a full team of IT professionals. You know you need IT support to keep your business running and stay safe from cyberattacks, all while ensuring your business stays on top of its technological needs each and every day.
That's where we come in.
We offer fully managed IT services, as well as co-managed IT services, and are able to handle all or some of your company's IT needs. Our team is available to support companies and agencies who don't have an internal IT team who need full-time support day-to-day, as well as internal IT teams who are looking for outside help to take technology to the next level and bolster their security protocols.
What We Offer
Our solutions are customized for every client based on specific requirements and plans for growth. We meet you where you are, whether that is to consult on long-range planning or to come in and handle your day-to-day IT operations.

IT maturity audits &
vulnerability analysis

Network monitoring & intrusion
detection

Remote monitoring &
preventative maintenance

Fully-managed employee
cyber training

Compliance & regulatory
requirements

Disaster recovery planning &
implementation

Long-range technology
roadmap development

Business continuity for
in-house & remote teams

Equipment & licensing
management
What our clients are saying:

"Since switching to Nessit I have been impressed by their thoroughness and attention to detail as well as their quick response when issues arise. Geoff and his team have been very professional in meeting our needs from the very beginning."
An energy company serving Northern New England
---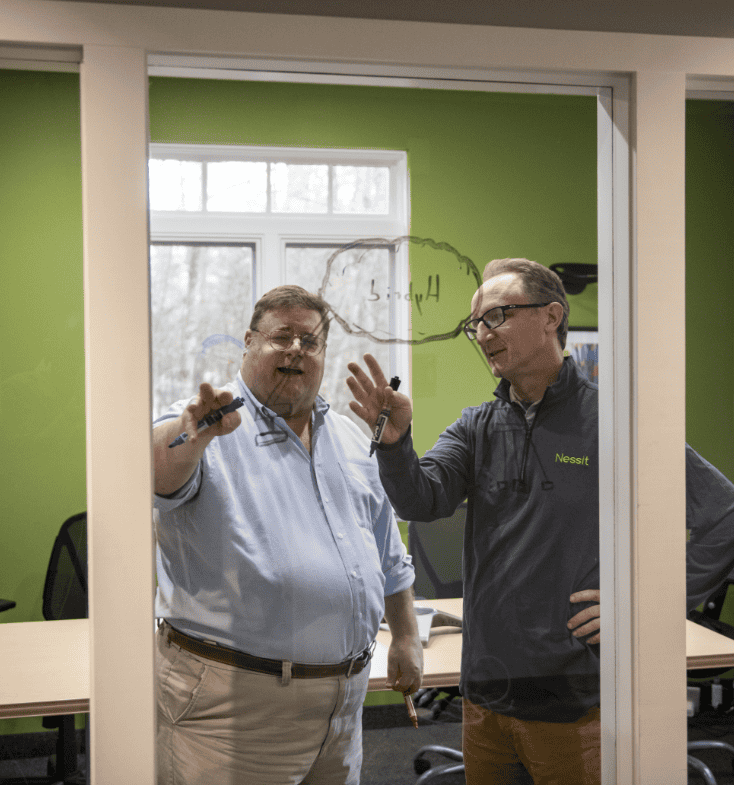 What's it like to work with us?
We start every new partnership the same way – with a needs discovery conversation. We listen to you about your IT needs and frustrations, and talk about what success looks like for our partnership. We'll audit your current network and devices to get a full picture of what you're working with and then create a customized plan that checks all the boxes.

Throughout our engagement, we'll have ongoing strategic business discussions because we understand how important technology is to your business's growth. The holistic approach we bring to our partnerships has helped many of our clients achieve both their short-term requirements and their long-term goals for revenue and growth.

You'll work with everyone on our team, from our technical experts and skilled help desk to our dedicated account management team and efficient project managers. Every client receives regular reports to understand exactly what our team has accomplished - and this is articulated in your customized plan.

Through our transparent communications, you'll know exactly how our IT services are serving you and how we're helping your business be more efficient and productive.